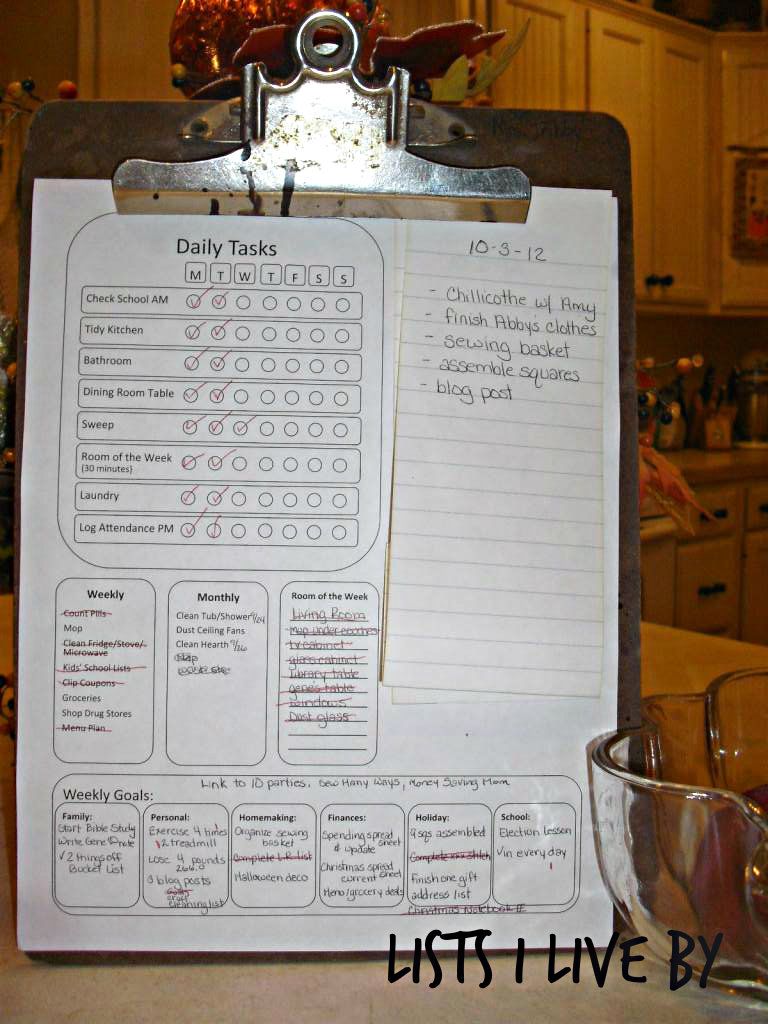 For a long time I have been making a To Do List every morning. There were always the same few cleaning chores that I feel should be done almost every day. Even though I knew that I was going to do them every day, I still wrote them on the list.
'Cause I like to check things off my list!
I'll tell you a secret. Sometimes I even write things on my list after I already have them done, just so I can check them off!
Eventually, I added some things that need to be done every week and I have been gradually coming up with things that I should do every month.
Add in my recent obsession with a weekly goal list and our Fall Bucket list, and I had four or five lists laying around next to my computer.
So, I created a printable checklist with handy little spots to check off my daily chores, a list of weekly chores, a short list of monthly chores and lines for writing the jobs that need doing in the room of the week.
I also included a space for my weekly goals. I have to write really tiny, but I fit it all on there. The empty space on the right is perfect for clipping on my list of jobs that I specifically want to get to each day.
It has been working out great. Everything I need to accomplish is right there in one place!
I tried to post my list as a printable in Google Docs but I have had no success. My son says that you could click on the above image and copy it to paint and print it out if you wanted to. I am working on getting an editable printable finished for you. I'm sure you don't have to do the same boring jobs over and over that I do.
I bet you have boring, repetitious jobs of your own!
Now, I need to make foofing up that clipboard a "to do" item on my list!
Linked Up at these parties: