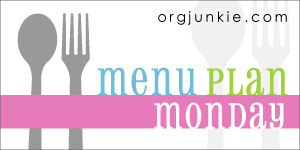 Breakfasts:
Banana bread from the freezer

Scrambled eggs

Cereal
Lunches:
Canned soup and grilled cheese

Leftovers

Out for lunch after homeschool co-op
Dinner:
Monday -

Crock Pot Chicken over rice

My new recipe for the week.

Tuesday -Breakfast for Dinner ... Eggs, sausage links, biscuits and gravy.
Wednesday - Chicken Quesedillas, Spicy Cheese Dip and Chips, Seven Layer Salad, and Peanut Butter Pie for Marshall's 18th Birthday

(Where, oh where, has the time gone?)

Thursday - Hamburger and rice from a mix
Friday - Potato Soup and Homemade rolls
Saturday - Homemade Pizza
Sunday - Baked Spaghetti **
**Maybe not in that exact order.
**Depending on the amount of leftovers, I reserve the right to make one night "Every Man for Himself" Night.
Menu Planning saves me so much money and so many brain cells. Why don't I do it more consistently?
I'm linking up over at Organizing Junkie's Menu Plan Monday.